Kinshasa DRC Congo
Tented trip to Democratic Republic of Congo.
SUMMARY OF TRIP
A fascinating trip to the remote jungles and black heart of Africa. The trip is the only one of its type in the world for these giant fresh water predator's.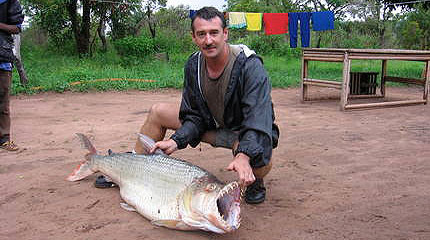 A 29 kilo Goliath caught on the Black river in 2008.
They go double this in size and annually we lose much bigger fish.

Comment from Peter McCullough:
"I was extremely tentative about the trip but as soon as we arrived there was someone to assist at the airport and from day 1 we were well cared for and looked after the fishing was superb and locations gave mixed results but we caught many species and 7 tigers to '46lb' just a brilliant once in a life time experience which I would not have missed for the world"
WHAT TO EXPECT
This has got to be the most exciting opportunity to go for a seriously toothy creature, the Goliath Tiger fish, awesome fighters, with incredible surges and jumps. For a big fish they are extremely acrobatic, generally taken trolling or dead/live bait fishing. No one has seriously gone after them with a fly rod and the world record is waiting for an adventurer to take. And I would argue that this is one of the last horizons for Game fisherman 'Mbenga' is the largest Tiger fish of all, and King of the sport in Central Africa. The trips are safe and well planned by experienced Europeans, who speak good English.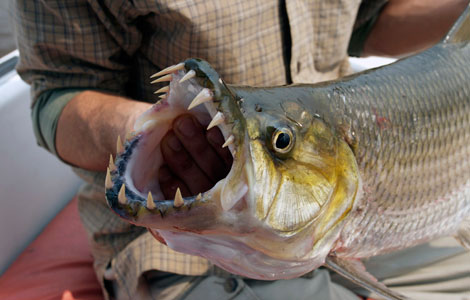 You need to be ready for a serious fight.
One fish stripped 300 yards of line of in a flash and just stopped jumped once and all I got back from my monofilament line was 300 yards.
It snapped of! Please put new mono on I advice minimum 40lb although 30lb is fine!!!! Know what I mean!!! 
THE FISHING DAY
Local boats and engines are supplied here and within the cost. We can expect long hours for one fish much like Salmon fishing.
The main method is float fishing style with live bat being no more than 20 inches below surface. I always thought it could be laborious but with hind sight its exciting Live bait produces the best strike rate's  dead ba and wobbled baits next then large plugs (with eagle claw hooks) in shallower runs work well as do big flat spoons (silver). Fly fishing is done in quieter sections of the river with big flies silver based.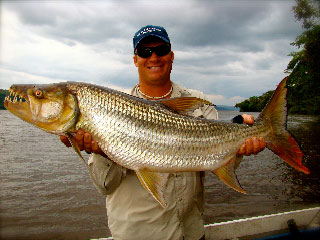 A QUALITY GOLIATH CAUGHT ON SPOON.
TARGET SPECIES HIGHLIGHTED
Goliath Tiger Fish: the main quarry.
Other Species:  other Tiger Fish
Cornish Jack
Vundu Catfish
Silver Catfish
BEST TIME OF YEAR
July – November.

Andreas, a Russian Client pondering the next strike!

TACKLE REQUIRED
You need 9' 10/11 weight fly rod with 40lb Single strand wire trace, anything else will fail. You have been warned! Intermediate and sunk lines, with fly's designed like fish to 6" silver and red or silver and green, eyes towards head will do fine and an eye, spinning rods 10' or bait rods of 10' with good tip action, 30lb test curve required as minimum ensure a hook sharpener is on board.
LOCATION ON THE RIVER
Congo River: our location's are secret.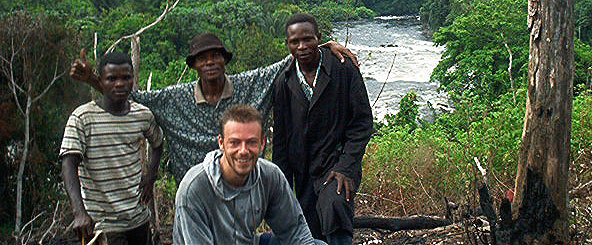 Michel And Guides Black River.
TRAVEL ARRANGEMENTS AND ACCOMODATION
Fly into Kinshasa airport. We can arrange your visitor permit on deposit being made (you then arrange visa with embassy 3 months prior trip as they only last 3 months), tourist taxes, drinks, bait, tips, personal expenses NIC.
This is not a luxury trip! You will be Sleeping in a tent in humid conditions at times, with a hot atmosphere, "bugs''. This is not a trip for softies though you will catch tigers and come home safely.
All meals and soft drinks are in the cost and served as an outside  tabled service.
COST OF TRIP
Price includes 2 nights hotel accommodation, and either 5 or 9 nights tented lodgings, all meals, all transfers within D.C.R.Congo by train, boat, jeep, minibus, auto car, or airplane which ever is appropriate.
Sterling is £2550 with person sharing comfortable tented accommodation, boat and car transfers, first night hotel accommodation in Kinshasa, meet and greet, private invitations to Congo, UK visas $75us cost, (UK cost) you need to apply exactly 3 months before the trip as the limitation on application time for Visa needs is 3 months I advise sending 2nd month before trip etc. 6 days fishing 8 nights.
Note: you will need proof in case or repatriation $1500 dollars US on a credit card or in a bank account, cash so bring statement with you please as customs will ask to see the document
Sterling £2550 3-4 persons. £2200 4-6 person. All extra weeks are at £895 per person.
MEDICAL
Yellow fever, (a must) hepatitis A, B,   6 weeks prior visit tetanus booster, malaria tablets.
ESSENTIALS
Click here for a full list of essential requirements before you leave.
TERMS & CONDITIONS
Click here to download a PDF of terms and conditions.