Fishing Methods
Fishing Methods for Goliath Tiger Fish.
The 5 Tried And Tested Methods, And 1 For The Fly Fisher:
Surface fishing with float of 60-80grm float or (secret) polystyrene 10x10x3 cm. With Boat anchored at specific locations such as counter currents and drifting downstream.
Surface fishing(above) with drifting boat.
Casting and retrieving, with a dead bait either on anchored boat or from the shore line or drifting boat. (mid water) or near bottom.
Halfway to bottom with a live bait or dead bait.
Surf casting from land.
Method For The Fly Fisher: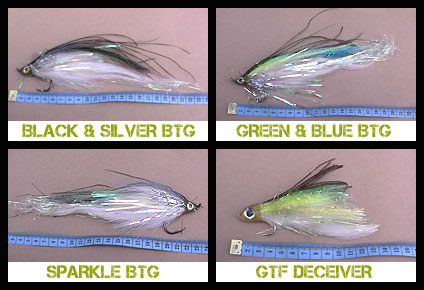 A new frontier much like Nile Perch and Mahseer.
Who said it can't be done? We do it!
Especially at the Congo RC Lodge where we welcome fly fishers and have had some success to-date but all with small fish to 18kg (small!!).Equipment required is 9 weight rod 9ft in length, 9-10 weight forward taper line 60lb tarpon tippet with 3-4 ft 175lb minimum solid wire trace attached to fly or multi strand and crimp fly on. Reels need to be large arbor with a quality drag system and contain 250 minimum backing of 40lb breaking strain. Flies vary but I have photographed flies I have used successfully where a 100% they have had strikes at various depths around 3-8ft.FLY NAMES:  Black and Silver and Black and Silver Green Bglyn.

It's usual to fish in areas we know containing fish so not narrowing down our opportunities at the edges of floating hyacinth, drifting down between fast and slack currents in ambush areas.

The world record is waiting for anyone willing to work hard during the week a 20kilo fish will do it comfortably!!!
BEST METHOD IN MY OPINION:
The first method (Surface fishing with float) is by far the best method by far and techniques have not changed much over the past 25 years, it requires constant vigilance and focus, the only downfall it can not be implemented when rafts of Hyacinth are floating downstream. 
SETTING YOUR TERMINAL TACKLE UP:
A 120mm 49 strand 150-200lb trace, armed with either 3 trebles 4/0 -2/0. It depends on size of bait always use two swivels due to bits and pieces in water fouling up line plant fibres are a devil which get entangled on the 30lb nylon by sliding up to it.. 
Distance between float and live bait will depend on the strength of the current in the given area ideally the bait should be 100cm under the float from the surface, the bait often comes to the surface but that's what we want to happen, being top predators any movement by eye or sensing movement, via the lateral line running down the middle of the fish is detected quickly if they are around they are hunting at mid depth on the look out for sick or dead fish easy meal uses less energy! 
All live bait used likes to try to keep diving down so it constantly acts as an injured fish attracting strikes. 
ADVANTAGES OF POLYSTYRENE AT 3CM THICKNESS:
The main advantage of this thickness of polystyrene its cheap and splits effectively when a strike occurs so not interfering with the fight and importantly this float shape keeps the bait in a situation better than any other type. 
HOW TO MAKE THE FLOAT:
You simply cut 4 grooves either side of the polystyrene on two sides wind your line around 4/5 times and that's it –simple and it works, you will also need to have a number of small in line weights to keep your bait fish at a comfortable depth. 
SAME METHOD FROM A DRIFTING BOAT:
The same method from a drifting boat works well to but control by the boatman is critical to its success, down side is line sometimes slackens losing touch with the bait. 
GETTING A FEW RODS GOING (SUBJECT TO HOW MANY ON BOAT):
3rd method is to get a few rods working while someone observes your float rod set-up, you can work another rod with a wobbled bait works for Pike and other predators and works just fine here as well much like you would a lure like a Plug but slower retrieve rate. The only fish to use as bait in this instance is a MOMYRE or MALANGWA, the trace remains the same as the float method accept space out the single or trebles along the fish better, the drifting current may take you 200-300 metres from the bank, that's fine as long as your working known lies in counter current areas. 
BEST CHANCES OF A STRIKE:
The Hyacinth rafts are big and attract a lot of bait fish underneath there structure, and your fishing in the boat which is traveling at a similar pace spinning and lure fishing or fly fishing can be effective here. 
Dangerous situations can occur and you have to be careful fishing like this being in direct contact with the fish as it takes the bait you can end up on the floor of the boat so take care and be alert! Strikes more often than not take place as the bait hits the water at the moment of splash down. 
Fishing with Lure and Rappalas (big big ones used for salt water pelargic's are advised), Its worth taking a dozen or so large Pike wooden lures in fish shapes (silver, bronze, red) I've had many hook ups and strikes on the surface and work well, I've had strikes on these but land around 30% of fish as I believe they hit the bait split it then swim back in again and eat. 
FISHING ON THE BOTTOM OR MID WATER:
This is the fourth method which is setting the rod much like a coarse fish method with dead bait anchored on a rod rest, but this is fished from an anchored boat ….I set the depth according to the depth finder, or plumb the fishing area well getting the depth. If for example there is 20 metres depth I let out 10-12 metres of line which should get the bait to 6 metres, for the sake of argument halfway down use use also a 30grm sliding sink weight and treble swivel with the bait on 2-3 foot of wire trace, from the swivel so it needs to be crimped on. Strikes often come as you are lowering the the bait over the back of the engine area the motors cause some sort of attention obviously, is this from fishermen discarding entrails heads from gutted fish have they learned over the years this is a chance for food. Best bait for this method is a MORMYRE fish. 
SURF CASTING FROM ROCKS AND THE BANK:
This allows you with no boat to fish from shore just like surf casting use a single 6/0 hook in order to keep the bait of the bottom and to avoid it being snagged on rocks, I add 1 metre of 15lb nylon beyond the trace with a 60grm or 100grm (current strength) weight. This way I have a taut 30lb line and my bait is of the bottom use a  (three way swivel if you want) between 30lb and 15lb lines. Unlike the four other methods outlined already this surf casting technique will catch many other species of fish, such as Captain Nile Perch and several types of catfish some which can be 100 kilos in weight!! 
BEST LIVE BAITS:
The list below is best in order to catch the Goliaths and are: 
'Varnished Kamba'
Kamba
Machuaro
Mboto
Mormyre
Malangwa
Mpoka
Catfish (least Savoury)
FISHING GEAR AND TACKLE TO BRING ON THE TRIP: 
Polystyrene 10cm x 10cm x 3cm 20 floats for a week send dhl in advance to save baggage space.
Trebles 4/0-2/0 or singles 6/0-8/0 get eagle claw or comparable.
3 reels of 10 metres 150-200lb 49 strand wire trace, plus crimps 200 and a crimper.
Small keep net for live bait (supplied on boats)
60-80 grm floats
A variety of on line leads 10-60 grm
A selection of 100 grm leads for bottom fishing
30-40lb monofilament and reels need to have 300 yard capacity ensure plenty of spare mono on trip.
Small rod reel for catching bait fish (supplied on site)
3-5lb test curve rod's take 2-3  something that would handle a 100lb tarpon -10-11ft for live bait able to handle 50-60grm weight, a beach caster if shore work is wanted.
LAST THING ANY FISHERMAN NEEDS:
Good luck and a good guide cuts the chance down in your favour.